WeMade Entertainment had just signed an agreement to publish the online game called Zwei!  Most of you may be familiar with this game from last year under development.  There is also a single player version of this game from Falcolm that many of you might have played since it was a very popular game in Japan.
Cover
Zwei! Online!
The game should be going under Closed Beta some time this year 2009 and that is free to play with no age rating.  With WeMade Entertainment taking the publishing of this game in Korea the game would have a great head start with their player community.  Since there are a lot of players from their games and popular titles like Tartaros, Avalon, and Changchun.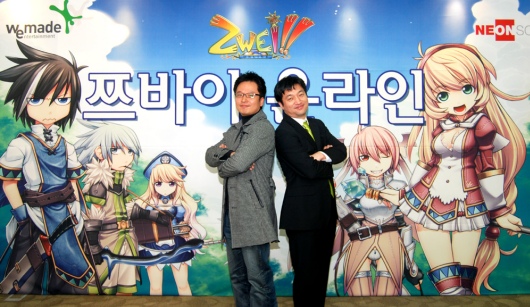 Gogogo Wemade Entertainment!
More Screens
Gameplay Screenshots

The game reminds me of Tricksters and Talesweaver a little bit from looking at the graphics.  These graphics are fine though since most of the players that will play this game would like it to look a little bit like the old Zwei!  Unless they revamp the whole game and make it Zweii 2 with cel shaded graphics but I doubt that will happen.  I'll probably try this one just for old times sake when it comes out for Closed Beta and to record some gameplay for you guys!
More Gameplay!
Cute Characters
Developer: Neon Soft
Game Publisher: WeMade Entertainment
Game Site: N/A