Air Rider Online is one of those Nexon games you must sign up for if you already have Nexon Korea account.  At first I thought it was going to be a typical flying racing game with some boring skills until I saw a gameplay video of it on THISISGAME.COM.  The video looks pretty fun and exciting to play and would be very challenging to win first place in each course.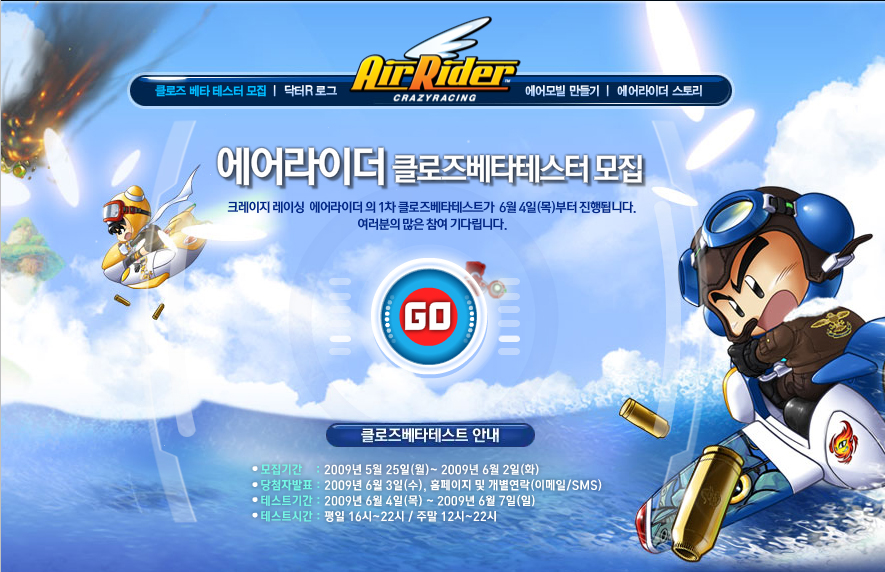 Sign Up Page~
Closed Beta Dates
Dates and Times may subject to change check out their main page for any changes
Closed Beta Sign Ups

May 25, 2009 - June 02, 2009
You will be notified by SMS, E-mail, or website logon confirmation!
Closed Beta Testing Dates

June 04, 2009 - June 07, 2009
16:00 - 22:00 Weekdays
12:00 - 22:00 Weekends
Keeping first place will be hard in Air Rider Online.  If you aren't familiar of Kart Rider Online then you should know that it is like Mario Kart but more crazier.  Put that together along with something like Ace Combat Online and racing then you will have... Air Rider!  Yeah, basically if you are in first place there will be a bunch of people spamming machine gun right behind you... going to take some navigating skill to keep that first place.  Will definitely be signing up for this game now!
Developer: Nexon Korea
Game Publisher: Nexon Korea
Game Site: http://air.nexon.com